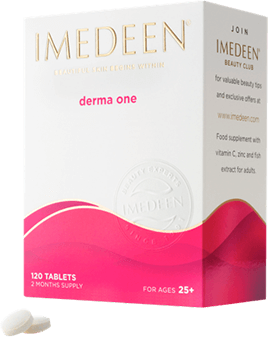 From your mid-twenties onwards skin collagen levels begin decreasing and skin may not look as fresh and dewy as it used to. Keep that youthful glow with a little help from within. IMEDEEN Derma One skincare tablets are formulated to help maintain moisture balance and radiance which can diminish with the first signs of skin ageing. Simply add two tablets daily to your regular beauty routine and discover the difference IMEDEEN Derma One can make in as little as 90 days.
Ingredients: featuring our signature Marine Complex and enriched with zinc and Vitamin C. IMEDEEN Derma One skincare tablets help maintain skin radiance.
Watch the Derma One video:
THE SCIENCE BEHIND IMEDEEN Derma One
The beauty efficacy of Derma One has been examined in two randomized,
double-blind, placebo-controlled studies, an additional 12-month study and a small
pilot study. These studies included women of varying age, skin type and degree of photo-ageing. Data from these studies identified significant improvements in the appearance of photo-damaged skin for women taking IMEDEEN Derma One compared with placebo; and improvements in additional measurements of skin condition including skin hydration.